On the New Japanese Capitalism, a la Kishida: Drifting Policy Direction and Its Fatal Outcome
May 25, 2022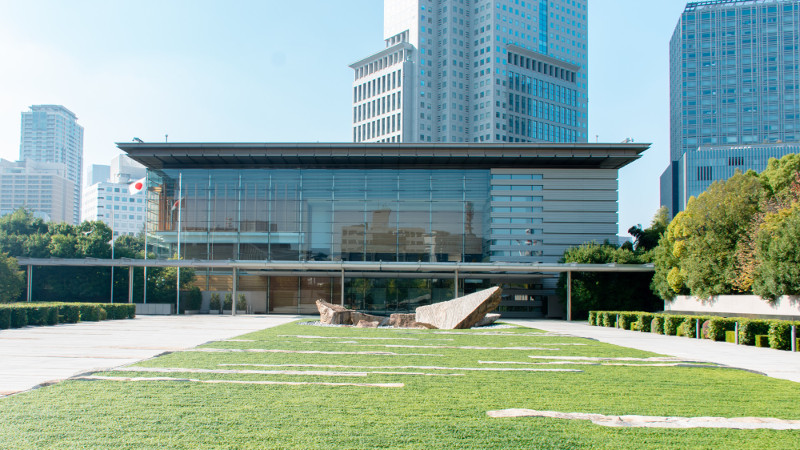 On the New Japanese Capitalism, a la Kishida
~Drifting Policy Direction and Its Fatal Outcome~
Japanese Prime Minister Fumio Kishida holds the reins of government for about 8 months and strives to create a new political approach by reviewing some policies considered by former Prime Minister Shinzo Abe because the revitalization of the Japanese economy has been an urgent and crucial concern for about 30 years. Kishida had to adopt a new effective strategy to overcome the problem and named his plan "New Capitalism" which contained wage hikes and inequality corrections. However, which was regarded as a new approach in his policy?
On November 8, 2021, Kishida showed his vision to work toward the launch of a new form of capitalism and a "Growth Strategy". The main substantial point of the strategy was as follows:
1. Promotion for the realization of a science and technology nation
2. Revival of the dynamism of Japanese companies and comprehensive support for startups as the driver of innovation
3. Launch of a Vision for "a Digital Garden City Nation" to revitalize rural areas and connect them to the world
4. Economic Security
On the other hand, a "Growth Strategy" was also published by Abe Administration in July 2020. A major point of the "Action Plan of the Growth Strategy" was as follows:
1. Establishment of new work styles
2. Review of payment infrastructure and enhancement of cashless
3. Responding to the Digital market
4. Promotion of open innovation
5. Mobility
6. Maintaining regional infrastructure and improving SME and small business productivity
(Figure: The Prime Minister's Office of Japan)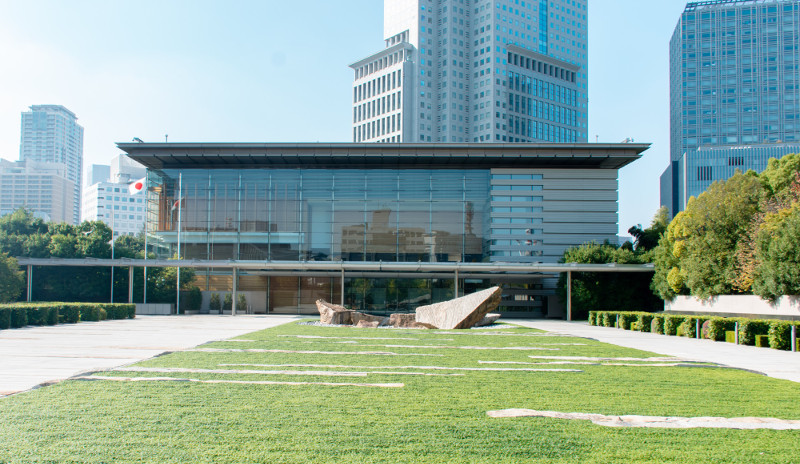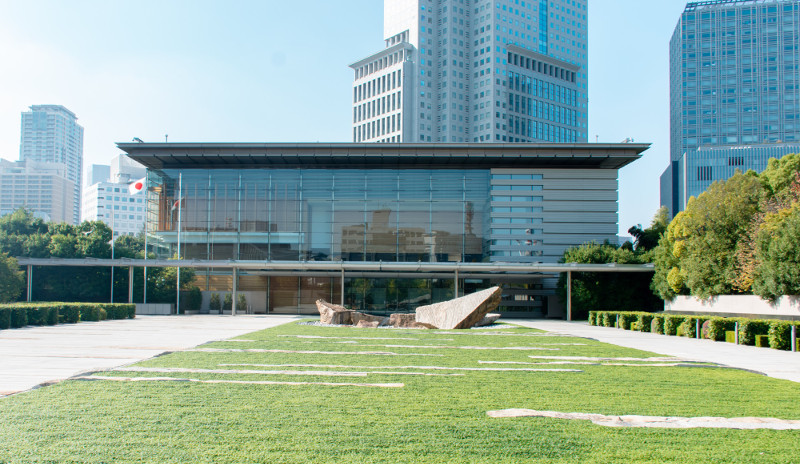 (Source: Cabinet Public Relations Office)
The most notable difference between these plans is the labor policy. While the plan in 2020 contained the "Establishment of new work styles" in a growth strategy, Kishida's vision considered a labor policy as a "Distribution Strategy". Therefore, the strengthening distribution to non-regular employees and the protection of freelancers was one of the main issues in Kishida's "Distribution Strategy", however Abe's vision proposed the protection of freelancers in the chapter of the "Establishment of New Work Styles". In 2020, COVID-19 was the most critical problem around the world and the Abe administration might have regarded "New Work Styles" as a key solution and freelancers were considered as one of the new work styles. Otherwise, the protection of freelancers in the Kishida administration was one of the "Distribution Strategy", therefore it is clear that the emphasis of Kishida's plan might be placed on the protection of workers to ensure equal pay for equal work.
On this point, one of the prestigious policy think-tanks in Japan questioned the validity of ensuring equal pay for equal work, because these reforms of policy were too small to realize "New Capitalism". Another Japanese think tank also showed the skepticism about the"Distribution Strategy", because now Japan was in a poor financial condition, and raising consumer tax was necessary to realize Kishida's policy.
(Figure: Meeting of the Council on Economic and Fiscal Policy)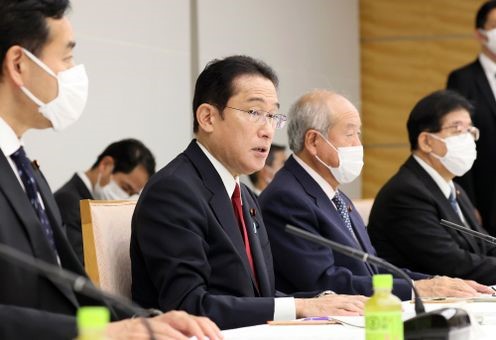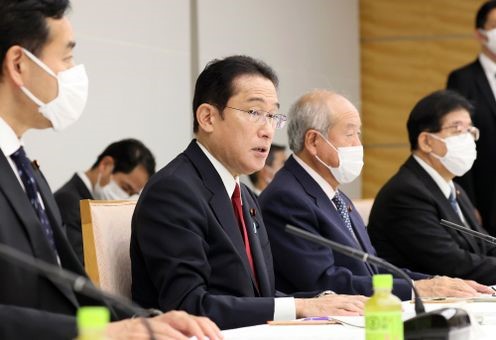 (Source: Cabinet Public Relations Office)
On December 6, 2021, a Policy Speech by Prime Minister Kishida to the 207th Session of the Diet showed that "Distributions to people are not a cost, but rather an investment towards the future" and "we will newly establish a package of measures at a scale of 400 billion yen over three years. We will support the brushing up of skills and job training, including for non-regular employees, and vigorously promote re-employment, moving to permanent employment, and career advancement".
George Hara, who was a business person and supported Kishida's "New Capitalism" policy, proposed the theory which meant that ramping up public spending was necessary to bolster the growth in February. Therefore, the aim of Kishida's economic policy should be regarded as not only "Distribution" but also more public spending.
Consequently, we have to watch out for whether more public spending causes a heated debate on tax increases in the near future to balance the national budget because Kishida is the head of Kochikai, which is one of the LDP factions and seemed to be traditionally influenced by Ministry of Finance in terms of their economic policy.
(Figure: The Evaluation of a Growth Strategy in the Kishida Administration)
| | |
| --- | --- |
| Opinion A | "If the government really seeks in earnest to reform capitalism, I believe it would do well to adopt a particular stance toward solving the problems at issue, by first respecting the process of stakeholder-based governance, and then, once the power of finance has been maximally leveraged, making limited contributions of its own as needed." |
| Opinion B | "Policies to promote growth and reduce inequality should be pursued in tandem and be in line with a longer-term vision. Toward this end, a debate on raising the consumption tax is unavoidable." |
| Opinion C | "During the COVID-19 crisis, policies we can expect to be immediately effective to promote growth is the implementation of reforms that promote digitalization and sharing of the economy." |
| Opinion D | "It's important to consider the ways in which government. support and policy might spur key investing themes, including green, digital, and the skills revolution." |
| Opinion E | "Questions arise about how the range of spending and incentive programs will create a 'new form of capitalism'. The connection between new capitalism, the targets for government assistance, and other proactive measures, needs careful clarification." |
(Source: Summarized by the author based on relevant open sources)
Masatsugu KURAMOCHI
Analyst, Global Intelligence Group (GIG)
(Reference)
https://mainichi.jp/english/articles/20211228/p2a/00m/0na/014000c
https://www.cas.go.jp/jp/seisaku/seicho/pdf/ap2020en.pdf
https://japan.kantei.go.jp/ongoingtopics/_00001.html
https://www.nri.com/jp/knowledge/blog/lst/2022/fis/kiuchi/0114_3
https://japan.kantei.go.jp/101_kishida/statement/202112/_00002.html
https://www.bloomberg.com/news/articles/2022-02-10/japan-new-capitalism-advocate-calls-for-more-public-spending