Sharing the Japanese Education System abroad: Potential of "Pax Japonica" through Education
May 24, 2023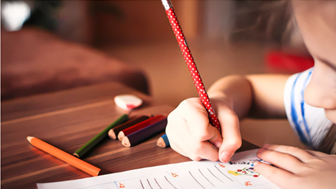 Egyptian President Abdel Fattah El-Sisi invited a group of Japanese experts who oversee the Egyptian-Japanese school system. They discussed the implementation of the educational model called "Tokkatsu" in schools. The Japanese education aims at to educate students who have a balanced personality and humane values, so it was praised in this regard (*1).
The idea of the Japanese-style schools began during Prime Minister Abe's visit to Egypt in 2015, when Egyptian President Abdel Fattah al-Sisi expressed his interest in Japanese-style education. After a series of trials in local schools, the "Egypt-Japan School Support Program (Egypt-Japan Education Partnership)" was signed between the two countries in February 2016, and it was decided to fully implement Japanese-style education with the support of the Japanese government. The Egyptian government plans to increase the number of Japanese schools to 100 in the future (*2).
The Egyptian school has focused on academic subjects such as Arabic and arithmetic, with little emphasis on education that develops students' social skills and practical subjects. As a result, the lack of discipline and cooperation among children has become one of the problems (*3). In contrast, Japanese schools offer many extracurricular activities other than academic studies. Some people say that Japanese-style education makes some children unwilling to go to school because it focuses too much on cooperation with other children. However, the Japanese school system has various advantages in many activities.
(Figure: Egyptian pupils cleaning the classroom)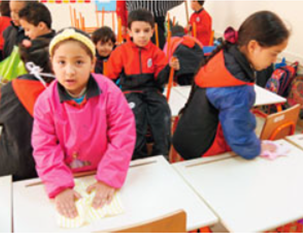 (Source: JICA)
So, what is Japanese style education like? One of the features of Japanese style education is the holistic approach to educate with solid academic ability, rich humanity and healthy body throughout the whole school life, including not only classes but also extracurricular activities. Specifically, there are many extracurricular activities as follows (*4):
Class meetings: Not only do individuals express their own opinions, but also everyone discusses and comes to a better conclusion.
Field day: Students line up and enjoy sports together, and there are competitions, such as Kumite gymnastics that are completed as a team.
Club activities: Often mandatory, but lead to opportunities to participate in sports.
Disaster drills: Everyone takes safety precautions at the same time and learns to act as a group, such as evacuating in a line.
Uniforms: Having everyone wear the same uniform creates a sense of solidarity and makes it difficult to feel economic differences, such as parental income.
School lunch: Meals are provided inexpensively at school, and a sense of responsibility is fostered as students share the responsibility of lunch duty, etc.
Through these activities, Japanese students are able to learn to work with and care for others.
After Japanese-style education was introduced to schools in Egypt, teachers reported that children began to respect each other's opinions, school violence decreased, and children gained self-confidence through daily service (*5). This is the fascinating result of Japanese-style education.
Japanese-style education can be adapted not only to Egypt but also to other countries.
It will not be long before more and more schools around the world introduce Japanese-style education and realize "Pax Japonica" through education.
*1 https://www.arabnews.jp/en/middle-east/article_44952/
*2 https://www.huffingtonpost.jp/entry/egyptjapanschool_jp_5cdba4c0e4b0c39d2a13534f
*3 Ibid.
*4 https://www.ishido-soroban.com/matome/536/
*5 https://www.huffingtonpost.jp/entry/egyptjapanschool_jp_5cdba4c0e4b0c39d2a13534f
Norifumi KASASAKU
Resercher (Analyst), Global Intelligence Group (GIG)