Resurrection of Yokohama: Light and Shadow of the Historical Port City's Urbanization
May 11, 2022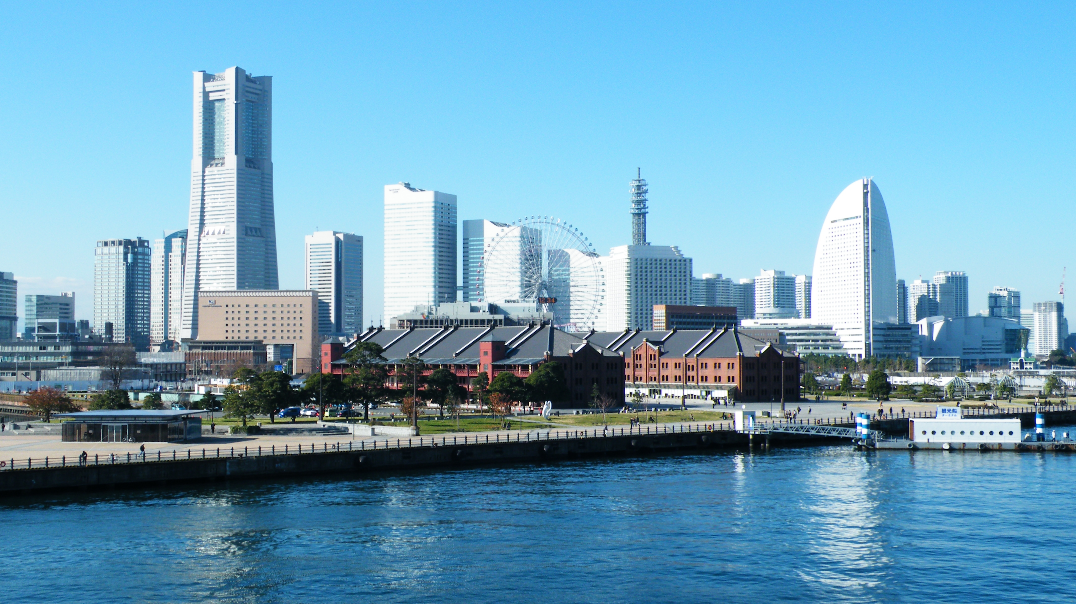 "Resurrection of Yokohama"
~Light and Shadow of the Historical Port City's Urbanization~
About a month later, June 2, is the 163rd anniversary of Yokohama Port Opening. While Yokohama was one of Japan's small coastal fishing villages, it was often pointed out that the history of the port illustrated the urban development in this area.
After the establishment of the port in 1859, there followed what was often called the "golden age" of city development of Yokohama because the port became the base for foreign trade in Japan, especially for the export of silk. For that reason, many western style buildings still remain along the city streets. After that, the city was heavily affected by the Great Kanto earthquake in 1923 and World War II. However, it attained a postwar reconstruction. Nowadays Yokohama City has the second-largest population, about 3.7 million, in Japan.
(Figure: The Minato Mirai 21 District)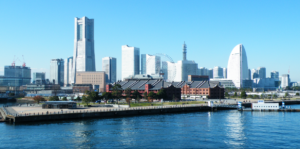 (Source: Wikipedia)
There are some reasons why the city had realized the economic development during the past 70 years. The most popular reason is that the rapid urbanization of Tokyo brought urban sprawl and fast population growth in near prefectures. Therefore, the Yokohama area could enlarge the size of the population as the nearby city of the Japanese capital. The second reason could be urban planning. For example, one of the famous consulting firms, PwC, pointed to the existence of carefully executed master plans like Minatomirai project. Therefore, such a plan had contributed to enlarge the city's attraction and realized the growth of industry and population. Furthermore, while some researchers suppose that the effect of agglomeration economies accelerates the economic growth by urbanization, Minatomirai project succeeded to collect a variety of company's offices and shops around the area.
However, nowadays the rapid population growth had stopped and it was reported in January that the total population of Yokohama recorded the first decrease after World War II. Furthermore, it is said that the growing deficits of public finance results from the rapid aging of the population and so on. Therefore, it can be seen that the typical model of urbanization which Yokohama had shown for 70 years faces a challenging problem.
(Figure: Population of Yokohama by Age(three groups))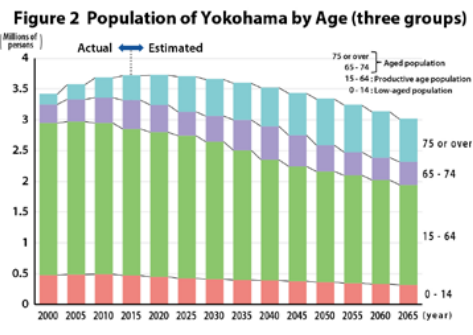 (Source: International Affairs Bureau, City of Yokohama)
All in all, while Yokohama attains a rapid growth along with Japanese economic development, it faces a difficult situation in the 21st century. PwC also showed the example of a few achievements to solve the new urban issues, such as the "compact city" strategy for an aging society in Toyama prefecture. We have to pay close attention to the next stage of Japanese urbanization in the next decades, especially the transition of Yokohama, as a symbolic part of "Pax Japonica" in the early stage.
(Reference)
PwC, "From Urbanization to aging society -Lessons from Japan"
JBICI Review "Urbanization and Development of Infrastructure in the East Asian Region", March, 2005
Hannah Ritchie and Max Roser, "Urbanization", Published online at OurWorldInData.org.
"Urbanization – Overview" , US EPA
Masatsugu KURAMOCHI
Analyst, Global Intelligence Group (GIG)